Harps Helen Plays
The harp is one of the oldest musical instruments in the world. The earliest harps were developed from the hunting bow. The wall paintings of ancient Egyptian tombs dating from as early as 3000BC show an instrument that closely resembles the hunter's bow, without the pillar that we find in modern harps.
During the Middle Ages the pillar was added to support the tension of extra strings and sometime before 1720 a mechanism was developed in order to meet the growing demands from harpists for an instrument that was capable of a broader range of pitch.
From Medieval to Modern, from Classical to Jazz, from Acoustic to Electric - the harp is an instrument steeped in tradition yet open to change and for many it is more than a mere instrument, it is a calling!
Victor Salvi was passionate in his commitment to making harps. He built his first harp in 1954 and today this passion is continued by craftsmen and engineers working together in their integration of traditional and new technological advancements in the making of Salvi Harps. Helen's harp is a Salvi Diana concert harp which has a full rich and even tone. It is known for its versatility, reliability, quality and most importantly, its manageability. The coming together of science and tradition has resulted in an instrument whose beautiful tones resonate throughout many local venues and locations.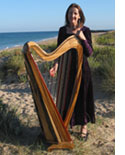 Robert Forrester (ForrestWorks) has been making individually handcrafted Lever Harps since the early seventies, with a dedication to his craft which is outstanding. Robert uses only the best timbers when creating his masterpieces and the timbers used on Helen's 36 string Celtic lever harp are Tasmanian black heart sassafras and huon pine, plus a little of the West Australian jarrah. The result is a harp which is not only aesthetically beautiful, it also has a very deep and rich tone. For more information on Helen's Celtic harp go to www.forrestworks.net.